Featured Game: Beat Saber
What do you get if you cross Star Wars with Guitar Hero?
In this rhythm game, you stand on a platform, wielding 2 lightsabers of differing colours. As your chosen song begins, blocks fly towards you and you must slice blocks before they move past you. Miss too many blocks and you'll fail the level.
Sound easy? The blocks will be one of 2 colours and you must smash them with the corresponding colours of your lightsabers and slash them in the direction of an arrow.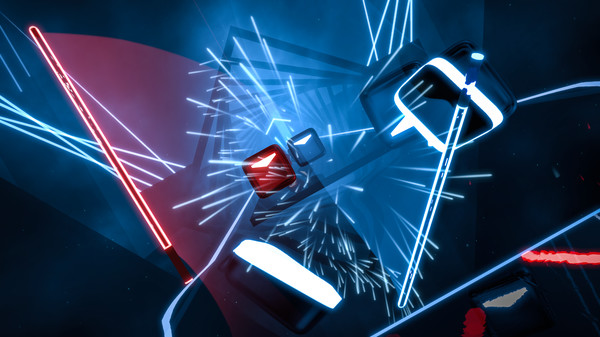 If that sounds difficult, you don't have to worry as you can start off on a lower difficulty and build your way up. When you make it to the Hard and Expert levels, you'll have to hit a torrent of blocks, avoiding bombs and while moving left, right and ducking to avoid the walls that will instantly end your song! Believe me, it's exhilarating!
And to top it all off, there's a point-scoring system. Hit the block through the middle, with a large slicing motion, following through the block to get the most points per slice. Your total points, providing you make it through the level, will give you a rank from F to SSS. Good luck getting SSS rank though as you'd need to secure the absolute maximum number of points to have it awarded to you.
One of the best things about this game is the ability to add custom-made levels, which means we can add those famous songs to further increase your immersion. Do you have what it takes to survive Expert mode? Watch the game trailer below and come down to iVR and have a go!
9.5 IGN – 10/10 Steam – 98% Google Reviews